Oxana and her husband came to faith in Ukraine where a large community of Jews resides.  After their life-changing experience in the year 2000 they felt a deep urge to immigrate to Israel.  Three years later, they set foot on the Promised Land, not knowing a soul – except for a distant relative of her husband.
They finally heard of a congregation of Messianic Jews in Haifa and decided to take a bus to visit.  It was a fresh wind of encouragement to them.  But on the way home, their bus overturned, and it was not clear if Oxana would live or die.
She had just given birth to their second child and she sustained a broken back, ribs and hip, plus internal bleeding.  But the congregation in Haifa put out the word and many people prayed.  She was miraculously healed and returned to perfect health!
In the Ukraine, Oxana had been a professional seamstress and she wanted to continue her trade in Israel.  Through another miracle, a man whom they had helped, an alcoholic, turned his tailoring business over to her.  She purchased his equipment and immediately her new livelihood took off and became very profitable.
However, her husband began to stray from the Lord.  He quit work and with his new friends he splurged on trips abroad and other luxury items, while Oxana, now with four children, labored to make ends meet.
For 12 years she toiled, while her husband piled up a very large debt in loans.  He was taking all her income and beating and abusing the children.  She finally decided she must divorce her husband.  He left, leaving her all the debt.
In her broken state, she found a gracious and warm congregation in the outskirts of Tel Aviv, pastored by Tony Sperandeo.  With great generosity, they helped her in every way possible; a member even repaired her terribly leaky roof.
Oxana worked daily from 2:00a.m. until 7:00a.m., then got the children ready for school, and afterwards continued working until 8:00p.m.  But she was sinking.  Her sewing machine was worn out and from stress and sitting all the time, she developed a herniated disk.
She cried out to God for help.  Her sisters in Ukraine took out a loan and came to help her for a month as doctors nursed her back to health. Her congregation submitted an application to IstandwithIsrael.  With the funds, she was able to buy a new professional sewing machine, and create a work space in her house for her sewing business.
She writes:  The help from IstandwithIsrael gave me energy, joy, a desire to work and move forward even more. From the bottom of my heart, I am grateful to IstandwithIsrael.  May the Lord bless you, your labor, and your hearts.  May you always have the ability to help others and receive a blessing for it from God.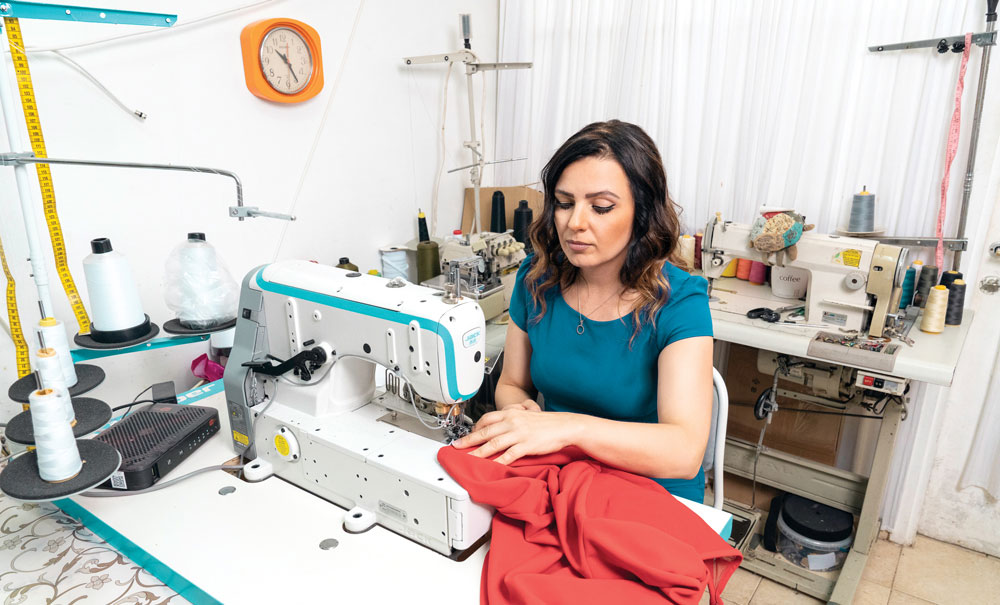 ---
Other articles in the August Maoz Israel Report:
---